First Dance UK is the UK's leading wedding dance lesson company
Since 2003 First Dance UK has been leading the way in providing wedding couples all around the UK with wedding dance lessons to learn a unique routine to dance to their first song.
All of our choreographers have many years of dance and teaching experience. Their expertise adds the credibility and professionalism to our name that you would expect for such an important time in your life.
18 Years of Experience
We've specialised in wedding dances for over eighteen years and taught literally thousands of happy couples (see a small selection of our great testimonials here). For this reason we have more experience and a greater coverage of the UK than any of the other UK wedding dance companies.
We Revolutionised the Wedding Dance Industry
Back in 2003 learning a routine for your first dance was a daunting prospect. You'd have had to go to a dance studio and have lessons with other couples. First dance songs were old fashioned and couples were crying out for something modern and new. We saw the opportunity to do things differently by offering; lessons at home rather than in the studio; any song could be learnt; handy dance packages.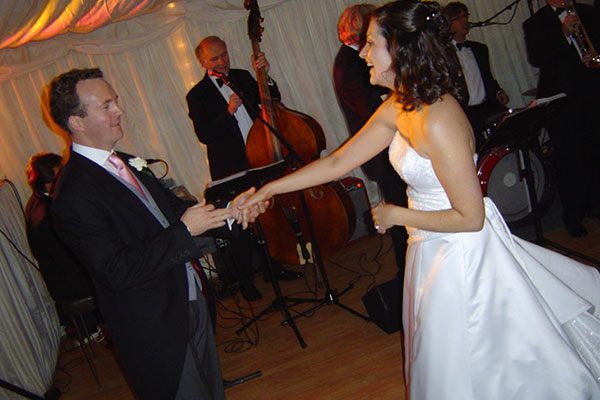 Ease of Booking
To ensure the booking process is smooth and pain-free we have over time refined it and automated certain tasks to ensure your booking can be dealt with quickly and efficiently.
High Service Levels
Our coverage and experience give us the ability to provide you with: the greatest flexibility for your lesson times; a dance teacher/choreographer best suited to your dance needs; the highest level of service to ensure you're fully prepared for your first dance. We pride ourselves in making your wedding dance lessons a very special & exciting experience in the lead up to your wedding.
Now have a look at the First Dance Lessons Guide page for more information, as well as our First Dance FAQs.
Publicity
First Dance UK has been mentioned in virtually all of the national Wedding magazines as well as The Times, Daily Mail, The Sun and The Telegraph. We have also had the pleasure of being featured on BBC1 Breakfast TV, Wedding TV, Channel 4 Bite Show, Radio Five Live, BBC Southern Counties and BBC Gloucestershire to name drop a few!
If you have any further questions please do not hesitate to contact us.